Speaker Series
Doris Sommer: Cases for Culture | March 27, 2018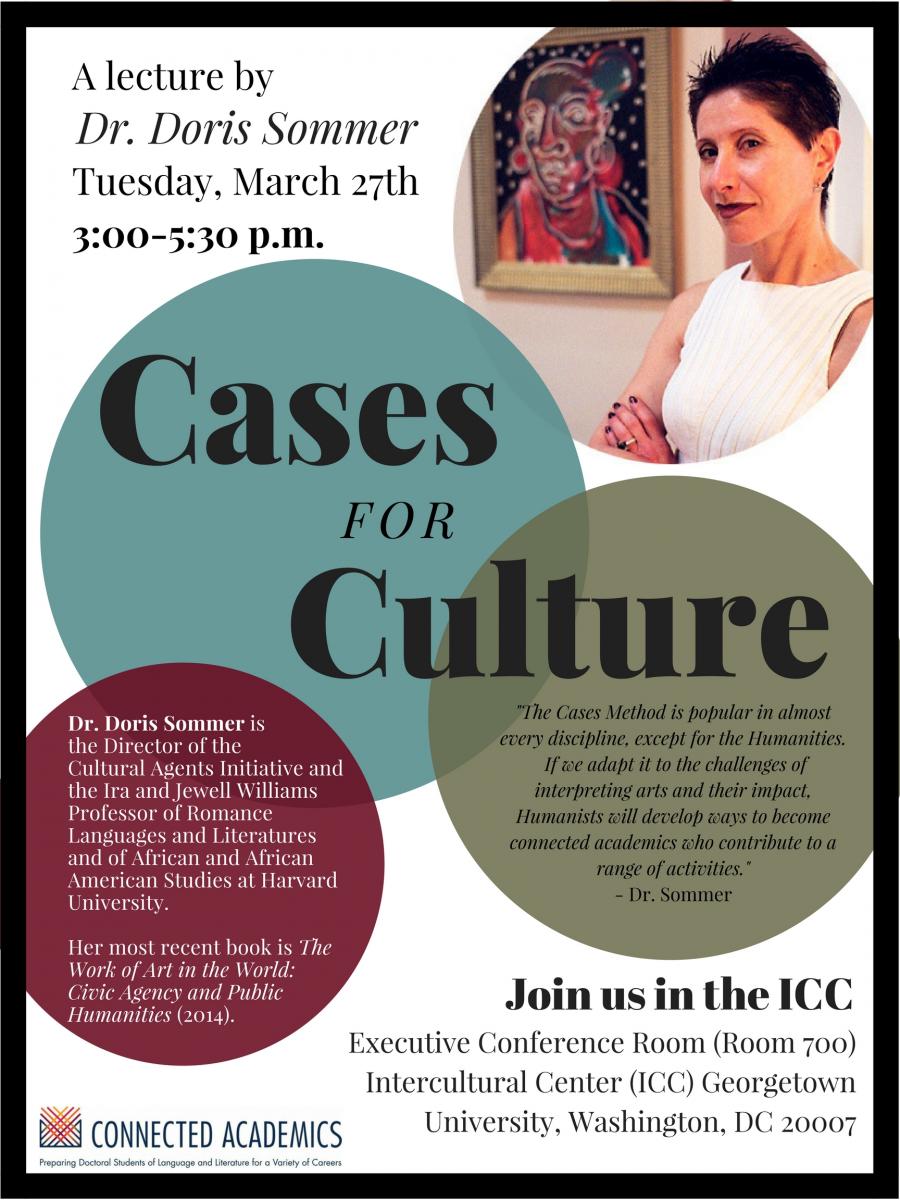 ---
The Public Humanities and Beyond: A Forum with Paul Yachnin and Scott Krawczyk | March 16, 2018
Come join Connected Academics at Georgetown University for a discussion on how to reinvent graduate education in the humanities (and find out why the "barista myth" is just a myth).
This panel will bring together Paul Yachnin (McGill University) and Scott Krawczyk (Long Island University), who come with extensive knowledge on mentoring graduate students for diverse careers in the humanities. The discussion will focus on the question of what academic instutions, faculty, and graduate students can do to foster a broader awareness of — and excitement for — career pathways outside of academia. The event will also hold a Q&A.
This conversation will be especially pertinent if you are a graduate student who is interested in:
rethinking the narrative of your master's or doctoral journey,
practicing strategies for pursuing fulfilling careers in a variety of settings (from think tanks and academic administration to nonprofit and private industry roles),
and translating skills and habits of thought central to a graduate education.
Registration is free, all are welcome, and lunch will be provided. For more information or to register, please visit the Public Humanities website.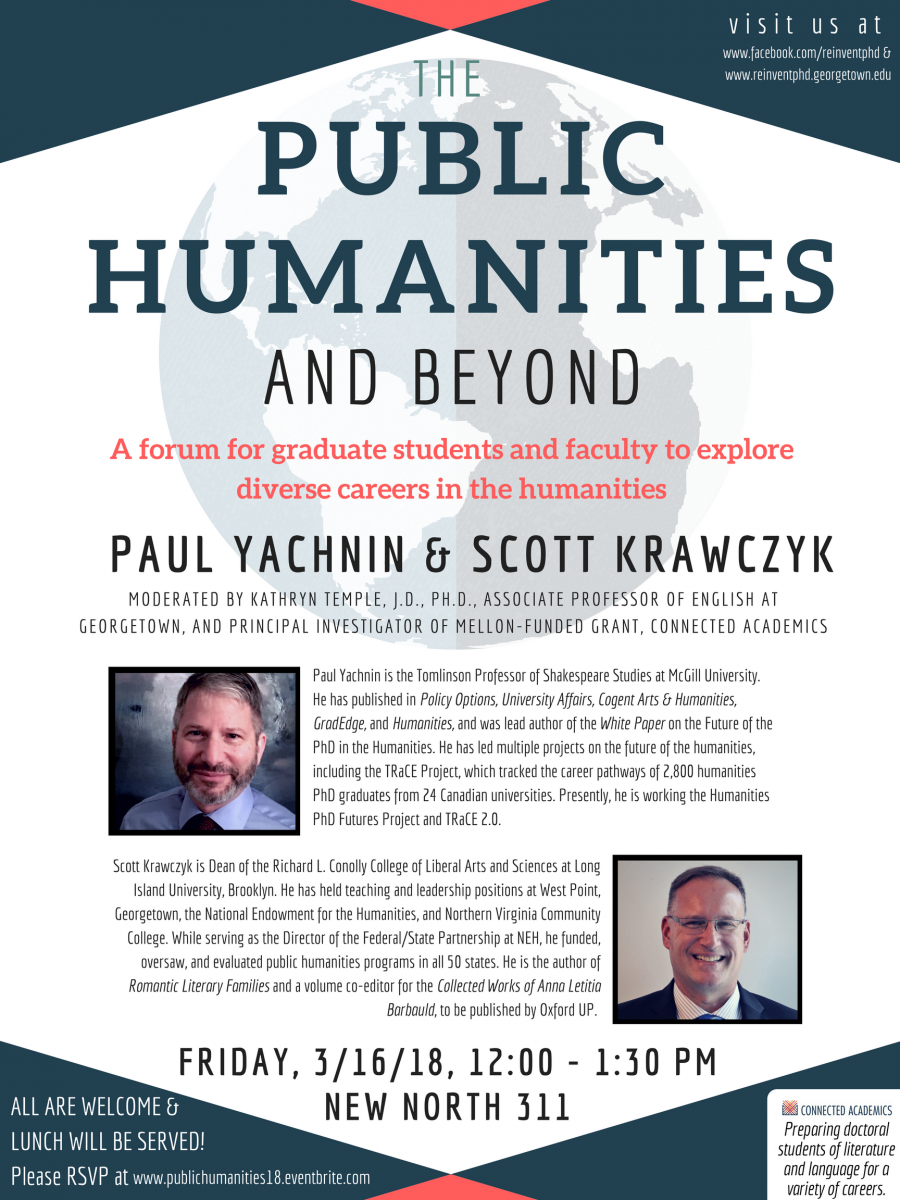 ---
Sara Guyer: The Humanities of Tomorrow | May 6, 2016
Sara Guyer talked about her work at the Center for the Humanities at the University of Wisconsin-Madison. She is Professor of English, Comparative Literature, and Jewish Studies at the University of Wisconsin-Madison, where she has directed the Center for the Humanities since 2008. At the Center, she has concentrated on imagining a humanities that draws upon the rigors of critical theory, while encouraging both established and emerging scholars to help shape public life. She is committed to research and thinking that reaches across institutional lines both within and beyond the university – and includes the sciences, arts, and professions. She will be the next president of the Consortium of Humanities Centers and Institutes (CHCI). Prof. Guyer is a scholar of poetry and rhetoric, with a particular interest in romanticism and its legacies. She is the author of Romanticism after Auschwitz (Stanford, 2007) and Reading with John Clare: Biopoetics, Sovereignty, Romanticism (Fordham, 2015). In addition to courses on Romantic and Holocaust literatures, Sara teaches Public Humanities: Theories, Cases, Methods.
---
Scott Krawczyk: Articulating the Value of the Humanities to the Larger World | March 18, 2016
Scott Krawczyk presented his paper "Articulating the value of the humanities to the larger world" and talked to us about new directions for doctoral curricula in the humanities. He is the Director of the Office of Federal/State Partnership at the National Endowment for the Humanities. He was a senior faculty member at the United States Military Academy at West Point for eleven years, the last three as chair of its Department of English and Philosophy. His research focuses on eighteenth-century and Romantic British literature with a particular emphasis on the collaborative networks that emerged among religious Dissenters.
---
Sidonie Smith: Manifesto for the Humanities | November 30, 2015
Sidonie Smith spoke to us about her new book Manifesto for the Humanities: Transforming Doctoral Education in "Good Enough" Times. In it, Smith advocates for a 21st century doctoral education that is responsive to the changing ecology of humanistic scholarship and teaching. She elaborates a more expansive conceptualization of coursework and dissertation, a more robust, engaged public humanities, and a more diverse, collaborative, and networked sociality.
Smith is the Mary Fair Croushore Professor of the Humanities and the Director of the Institute for the Humanities at the University of Michigan. She was the 2010 president of the Modern Language Association. Her research has explored issues in human rights and personal narrative, autobiography studies, feminist theory, and postcolonial literatures. Her most recent book Manifesto for the Humanities (Michigan, 2015) is freely available to read online.
---
Maggie Debelius: "So what are you going to do with that?" | October 30, 2015

Maggie Debelius, co-author of So What Are You Going to Do with That? Finding Careers Outside Academia (University of Chicago, 2014) spoke about the newly revised edition of her guide to postacademic career options for M.A.s, Ph.D.s, and graduate students. Debelius and her co-author Susan Basalla interviewed hundreds of graduate alumni across disciplines to find out how they have found satisfying careers outside of academia.
Debelius is a Teaching Professor in the Department of English at Georgetown and the Director of Faculty Initiatives at Georgetown's Center for New Designs in Learning and Scholarship (CNDLS). She holds an M.A. in English from Georgetown and a Ph.D. in English from Princeton.